The Peterborough Law Association Law Library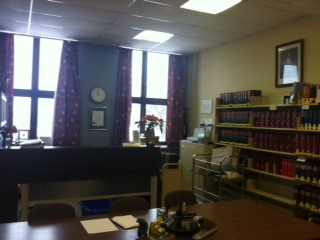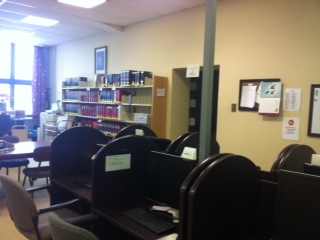 Lois C. Davidson Law Library, County Court House
470 Water Street
Peterborough, Ontario
K9H 2N3
GPS location: Latitude: 44.307874 ; Longitude: -78.317313

Toll Free: 1-866-556-8395
Phone: 705-742-9341
Fax: 705-742-6173
Email: library@peterboroughlaw.org
Key Contact: Laura Dobbie
Hours: Monday – Friday from 9 am to 4 pm
GPS coordinates: Latitude: 44.307874 ; Longitude: -78. 317313

Serves:
Approximately 120 lawyers throughout the Peterborough Area.
Circulation Policy:
Not open to the public. Members may sign out textbooks for two weeks. Visting counsel are welcome to use the collection in the library. The library participates in interlibrary loans with other county and district law libraries.
Online resources: (in library only)
- WESTLAW Canada Next (Law Source, Family Source, Estates & Trusts Source and Criminal Source)
- Hein Online
- Quicklaw
- O'Brien's Encylopedia of Forms
- Divorce Mate
- Early Canadiana Online
- Internet (Internet Explorer, Office 2013)
Special Collections:
The library has a number of books from the Library of Sir John Beverley Robinson, the first Chief Justice of Ontario. He was the brother of Peter Robinson who arranged for the Irish immigrant settlement of Peterborough and for whom the city is named. In 1899 Christopher Robinson, Q.C. gave the Peterborough Law Association a number of his father's reports and textbooks, including complete sets of early Ontario law reports and statutes of Upper Canada from 1792. The library holds complete sets of bound statutes from that date to the present for both Canada and Ontario. Complete sets of early English reports, including both the Revised Reports and the English Reports, are also available.
To access the library's list of holdings, visit the Law Society of Upper Canada's central database,
INFOLOCATE
History:

The Peterborough Law Association was incorporated on November 12th, 1897 under the Ontario Library Associations and Mechanics Institutes Act. "The purpose shall be the formation of a law library for the use of its members and the taking cognizance of all matters relating to the welfare of the legal profession in the Town and County of Peterborough."

For four years the association leased the library from one of its members until, as a result of a lawsuit in 1893, the association decided to purchase its own books. The library has always been located in the county court house, an historic building on the top of the hill overlooking Victoria Park in the centre of Peterborough. The court house was built in 1835 of limestone from nearby Jackson Creek, and is a historically designated building.
The collection was nearly lost in 1916 when sparks from the Quaker Oats Company fire set alight the roof of the court house. There are still older books on the shelves which were scorched or water damaged by the fire. After the fire, the library was moved to the ground floor where it remained until 1972. For the last 34 years the library has been located in the upper north end of the court house.
In 2000 the association designated the library as the "Lois C. Davidson Law Library" in recognition of the services of the lawyer who had guided the library since 1967. Allison Killins replaced Lois in June 2008. Allison has a Master's degree in Information Studies from the University of Toronto (1997) and is available to assist with research on site or via email.

Computer User Workstations: 6

Facility:The library is located on the upper north end of the courthouse. It has a collection of about 2,000 textbooks, housed in a common area shared with two robing rooms, a conference room, computer and research space, and a lounge. Parking is limited on site and is $3.00 cash only. Tokens may be purchased at the County of Peterborough offices at opposite end of building.
There are no food services on site, but self-serve coffee and cookies may be purchased on an honor basis.
Photocopy and print services are available for .50 / page for non-members and .25 / page for members. Please speak to the librarian for more information.

Accessibility:

Not wheelchair accessible. A handicapped equipped washroom is located on the second floor. The washroom itself is not accessible, being at the top of a flight of stairs.
Type:
Area
For the Public
The Peterborough Law Library is not open to members of the public. Below are resources to assist members of the public.
Find a Lawyer Referral Service:

The Law Society Referral Service (LSRS), known for the past 40 years as the Lawyer Referral Service (LRS), has been filling an important community need by connecting lawyers and people looking for assistance with a legal matter.
Now, in response to growing public demand, the Law Society is expanding its referral service to include paralegals as well as lawyers.
When you call the LSRS, we will provide you with the name of a lawyer or licensed paralegal who will provide a free consultation of up to 30 minutes to help you determine your rights and options.
Visit www.findlegalhelp.ca, or call:
Toll-free Crisis Line 1-855-947-5255
Toronto area Crisis Line 416-947-5255
Legal Aid Ontario:
Legal Aid Ontario (LAO), an independent agency funded largely by the Province of Ontario, is responsible for the delivery of high quality legal aid services to low-income individuals throughout Ontario. LAO provides legal aid services in a number of areas, including criminal and family matters, and immigration and refugee hearings. Legal aid certificates are issued to eligible individuals, who can then retain a private lawyer of their choice.
LAO also funds 80 independent, community-based legal aid clinics. These clinics provide legal aid services for poverty law matters, such as housing, social assistance, pensions, workers' compensation, and employment insurance.
Duty counsel services may also be available for people facing criminal, family or youth courts without legal representation.
Parties with a small income, or who are receiving social assistance may qualify for legal aid. Legal aid can help pay for some or all of parties' legal costs. Visit Legal Aid Ontario's website for a list of addresses of legal aid offices and clinics throughout the province. The numbers for local legal aid offices are also available in the white pages of telephone books.
Learn more>> http://www.legalaid.on.ca/en/
Steps to Justice:
Steps to Justice is a first-of-its-kind initiative that empowers people in Ontario to understand and take action to deal with their legal problems. It gives comprehensive online information on common legal problems that people experience in family, housing, employment and other areas of law. Steps to Justice:
equips people to work through their legal problems through easy-to-understand steps
includes practical tools, such as checklists, fillable forms, and self-help guides
gives referral information for legal and social services across Ontario
has live chat and email-based support for users with additional questions
Learn more>> https://stepstojustice.ca/
Legal Line:
Legal Line has provided Canadians with free legal information and help since 1993.
Learn more>> https://www.legalline.ca/